Bug's World is a slot machine from the Dutch game developer Art of Games, filled with cute little insects, spiders, and snails. Playing cards can also show up on the reels, but wins from animals tend to be bigger than wins from the playing cards.
This game has several fund bonus features, including free spins, pick-me, and double-or-nothing.
When you win something, you might hear the flutter of happy insect wings.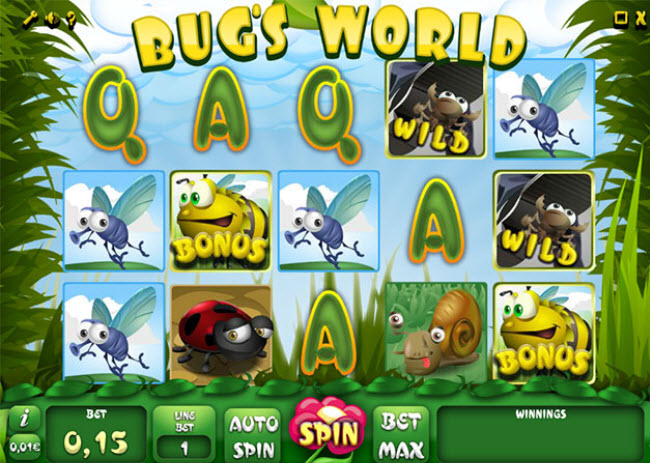 Paylines
Bug's World have 15 pay lines.
Free spins
You need at least three happy spiders to obtain free spins. The happy spider is a scatter symbol, so the happy spiders don't have to line up on an active payline to work.
3 happy spiders will give you 5 free spins
4 happy spiders will give you 10 free spins
5 happy spiders will give you 20 free spins
Caterpillar special prize
When the caterpillars land across any three or more reels on a payline, your job is to click on one of them to reveal a special prize.
Gamble feature
Every time you win at Bug's World, you will be given the option of wagering your win in a game of double-or-nothing or 4x-or-nothing. This is completely optional; you don't have to risk your win if you don't want to.
If you do want to play, chose the 2x or 4x multiplier button in the centre of the screen. A light will flash around the bottom in a clockwise direction, highlighting the various possible results: Multiplier, Try Again or Better Luck Next Time.
Wagering
You can adjust the coin value on this slot machine and there are six options available: £0.01, 0.05, 0.10, 0.25, 0.50 and 1.00.
You can activate any number of pay lines, from just one to all fifteen.
You also get to decide how many coins to wager per active payline, from one coin to five coins.
Smallest possible wager on Bug's World: £0.01 coin value x 1 payline x 1 coin = £0.01 per spin.
Largest possible wager on Bug's World: £1 coin value x 15 pay lines x 5 coins = £75 per spin.
About The Art of Games
The Art of Games is a game developer based in the Netherlands. Their portfolio includes both slots, table games, and a few other things.
Some of the most well-known slots from this developer are Cherry Bombs, Sushi Paradise, and The Love Machine.